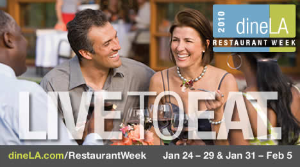 If you're a foodie like me (and happen to be in the Greater LA Area), you're going to want to start making some reservations...
Yes, dineLA Restaurant Week is back!
Jan 24 – 29 and Jan 31 – Feb 5, 2010
This year over 200 restaurants are participating in the event that offers you Prix Fixe prices at fabulous dining spots across the city.
Always wanted to try a certain restaurant but it seems a little pricey? Chances are it's on the list, offering a hefty savings. The Prix Fixe prices for three course meals are...
| | | | |
| --- | --- | --- | --- |
| | | LUNCH | DINNER |
| $ | Deluxe Dining: | $16 | $26 |
| $$ | Premier Dining: | $22 | $34 |
| $$$ | Fine Dining: | $28 | $44 |
Prices and meal periods vary by restaurant and exclude alcohol, tax and gratuity.
Click here to see the list of participating restaurants. Plus you can see the menus offered.
Here are the FAQ's...
What is dineLA Restaurant Week? dineLA Restaurant Week is a two-week dining event established to introduce diners to the vast array of restaurants in neighborhoods throughout LA County. Local foodies and visitors to LA will have the opportunity to enjoy a selection of specially priced three-course meals from some of LA's best restaurants during this dining event.
When is dineLA Restaurant Week? dineLA Restaurant Week takes place over two consecutive weeks, excluding the Saturday between: January 24-29 and January 31-February 5, 2010.
What are restaurants offering during dineLA Restaurant Week? Participating restaurants will opt into one of three dining categories and present a specially priced three-course meal for lunch and/or dinner. Diners will be able to choose from three choices for each course including appetizer, entrée and dessert.
What restaurants are involved in dineLA Restaurant Week? A wide variety of restaurants throughout Los Angeles County-over 200 this year-are participating in dineLA Restaurant Week. A complete list of participating restaurants is available online.
How does a customer take advantage of dineLA Restaurant Week? Diners may make a reservation online at dineLA.com/RestaurantWeek, or they may contact the restaurant directly. Due to the popularity of this event, advance reservations are strongly encouraged, but walk-ins are appreciated. There is no guarantee that walk-in guests will be accommodated.
GOOD TASTE SHOULD BE REWARDED! Register any eligible American Express® Card and get a $20 statement credit when you dine out three or more times at any participating restaurants during dineLA Restaurant Week. Click here to register.
http://discoverlosangeles.com/play/dining/restaurantweek/aapartNew.html