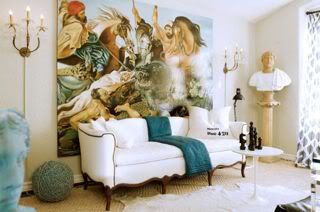 Whenever I want a good laugh, I checkout the Mogg Girls's blog moggit.com. They're "the guilty pleasure of the decorating world." 
In their words, 
Joy and Janet created moggit.com to tackle 'fugly' design and home decor on a daily basis. And the design world will never be the same again...
I like to think of them as a couple of snarky friends who stand with you in the corner of the oh-so-serious design world, keeping you in stitches with their observations. 
Moggit.com posts are in three categories:
Oh, no you didn't

If these walls could talk

Seriously
The photo above is in the 'If these wall could talk' category. Here's the caption...
JOY: You know what strikes me as funny about this room?
JANET: Uh, everything?
JOY: People are
actually raving about this whole 'look.'
JANET: Ugh. Really?
JOY: They love it. But here's the thing, say 
I 
decorated my living room to look like this...
JANET: Ohmygawd-- I would think you had lost your freakin' mind.
JOY: Yes! And I wouldn't be able to walk the streets without people pointing and yelling--
JANET: "
Hey, there goes 'Crazy Lady' with her Big Ball of Yarn!"