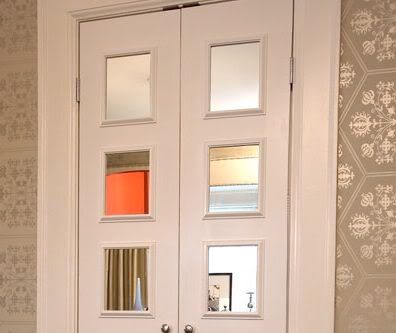 I can easily get lost in a marathon of design shows, can't you? Every once in awhile, an idea makes me sit up and take note. This was one of them.
Check out this inexpensive idea for creating french doors using store bought bi-fold doors. You could easily customized it to your own style by changing the molding, knobs, paint and yes, the wallpaper.
It's way less expensive than purchasing new french doors and pretty darn easy to do yourself...or with a Handy Andy friend. If you have a sketchy view from your dining room into your kitchen, this is a great idea. The mirrors only need to be on one side. You could even use chalkboard paint on the kitchen side! Just sayin'.
I saw it on HGTV's new show from Canada, Pure Design.
You can achieve the rich look of the Hollywood Regency style without the high price tag by adding glam to every day bi-fold doors.
Tools and Supplies:
Bi-fold doors
Ruler
10 pre-cut glass mirror squares (5 per door)
Molding strips
Wood glue
Nail gun
Silicone
How To:
Mark out five even spaces for the 5 mirror squares, leaving space without mirror on the bottom of the door in case it ever gets kicked.
Using standard trim molding, cut to the size to surround each mirror. Place the L-shape of one corner down first to create a cove that the mirrored glass can slip right in.
Attach the molding to the door face using glue and then secure with nails.
Use a dab of silicone on the four corners of the back of the mirror to hold it in place and finish the molding.
Paint and then re-hang.
From HGTV's show Pure Design